Jim Thompson: The Thai Silk Sketchbook (Hardcover)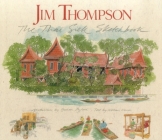 $36.00
Email or call for price.
Description
---
When the renowned American businessman, Jim Thompson, disappeared on Easter Sunday 1967 in mysterious circumstances, the legend of this extraordinarily gifted designer and entrepreneur began. During a period of two decades, he had developed silk making from being a static village craft into a dynamic textile industry providing exquisite silks for both the Thai domestic and international markets. The house he built in Bangkok is a work of art in itself, furnished with his superb collection of Asian antiques and artefacts. Somerset Maugham was to write after on of Thompson's enchanting dinner parties, "You have not only beautiful things, but what is rarer you have arranged them with faultless taste." This attractive book portrays the world of Jim Thompson with annotated sketches and fine watercolor paintings - exploring his life story; the house, now a museum; the history of silk; sericulture and silk making; and the company he established which today continues his work, producing some of the world's finest fabrics and designs.
About the Author
---
Graham Byfield is an English watercolorist who lived and worked in Asia for many years. In preparing this book, he spent a considerable time talking to the people who knew Jim Thompson, visiting the sites in Thailand that were part of his story, and researching the process of both traditional and industrial silk making. William Warren knew his compatriot Jim Thompson well, and is the author of Jim Thompson: The Unsolved Mystery. He has written widely on Thai society and culture, and has lived and worked in Bangkok for several decades.