Lewis Baltz (Hardcover)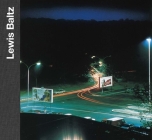 Description
---
Baltz was the key protagonist of the photographic movement known as the New Topographics
This comprehensive book accompanies the first retrospective exhibition of Lewis Baltz's work following his passing in 2014. It explores the artist's oeuvre as a complex whole of interrelated series, from his first Prototypes and the Tract Houses to Park City, San Quentin Point and Candlestick Point, through to New Sites of Technology and Venezia Marghera. The book simultaneously locates Baltz's work in the context of photography and contemporary art since the 1970s, to fully examine his influence and legacy.
Baltz is one of the most prominent representatives of the New Topographics movement, which was seminal to the development of conceptual photography. His photo series document the impact of industrial civilization on the landscape, focusing on places outside the bounds of canonical reception: urban wastelands, abandoned industrial sites, warehouses. Baltz's strategies reflect a deep knowledge of the history of photography and present the photographer as a teacher of seeing.
About the Author
---
Lewis Baltz (1945-2014) was born and raised in Newport Beach, California. Beyond the landmark exhibition New Topographics: Photographs of a Man-Altered Landscape, Baltz's work has been shown in about 50 solo exhibitions and featured in 17 monographs, and can be found in the collections of the Guggenheim Museum, the Los Angeles County Museum of Art and the San Francisco Museum of Modern Art, to name but a few. Steidl's Baltz books include Candlestick Point (2011), The Prototype Works (2011) and Works - Last Edition (2015).