International Yearbook Communication Design 16/17 [With CD/DVD] (Hardcover)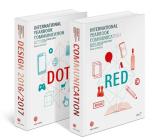 $70.00
Email or call for price.
Description
---
-The International Yearbook Communication Design is a must-have for corporate communication experts, content managers, advertising consultants, designers, art directors, photographers, design universities, design students and people with a passion for the creative world The reference book for contemporary design presents today's best projects in communication design on more than 1,000 pages. Browse through the latest developments in the industry and behold innovative works and outstanding campaigns from the fields of advertizing, marketing and more. Volume 1 comprises the wide range of creative achievements in corporate design, brand design, packaging design, advertising, annual reports, publishing & print media, posters, typography, illustrations and social responsibility. Volume 2 features trends in spatial communication, including fair stands and retail design, film & animation, sound design, game design and interface design, as well as the latest apps, e-commerce and online developments together with projects of upcoming designers. Moreover, portraits of the best designers and a multimedia special DVD complete the standard work of international communication design. Contents: Volume 1: Preface; Red Dot: Agency of the Year; Corporate Design; Brand Design; Packaging Design; Publishing & Print Media; Posters; Typography; Illustrations; Social Responsibility; Designer Portraits. Volume 2: Red Dot: Brand of the Year; Fair Stands; Spatial Communication; Retail Design; E-Commerce; Online; Sound Design; Game Design; Apps; Interface Design; Red Dot: Junior Award; Designer Portraits; Jury Portraits. Multimedia Special on DVD.