Draping: Techniques for Beginners (University of Fashion) (Paperback)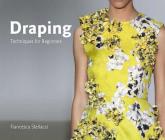 Description
---
Draping is the art of manipulating fabric directly on the dress form. It is the most creative way for a designer to turn design ideas into reality.

Start by learning the basics, including how to use a dress form and how to prepare the muslin for draping. You will then move on to learn how to drape basic bodices, including a range of darts and necklines, and also basic skirts, and finally dresses. Each lesson in the book is illustrated in meticulous detail in a series of step-by-step photographs accompanied by photos from the runway.
About the Author
---
Francesca Sterlacci is Founder and CEO of The University of Fashion, the first and largest online fashion design video library in the world.

Barbara Arata-Gavere is an Adjunct Professor at the Fashion Institute of Technology, NYC.