Desert Notebooks: A Road Map for the End of Time (MP3 CD)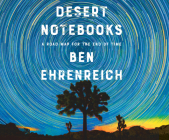 $22.99
Email or call for price.
Description
---
As inhabitants of the Anthropocene, what might some of our own histories tell us about how to confront apocalypse? And how might the geologies and ecologies of desert spaces inform how we see and act toward time--the pasts we have erased and paved over, this anxious present, the future we have no choice but to build? National Magazine Award winner Ben Ehrenreich examines how the unprecedented pace of the destruction of our environment and an increasingly unstable geopolitical landscape have led us to the brink of a calamity greater than any humankind has confronted before. But in the canyons and oases of the Mojave and in Las Vegas's neon apocalypse, Ehrenreich finds beauty, and even hope, surging up in the most unlikely places, from the most barren rocks and the apparent emptiness of the sky. He draws on that stark grandeur to ask how we might reckon with the uncertainty that surrounds us and fight off the crises that have already begun.Layering climate science, mythologies, nature writing, and personal experiences, Desert Notebooks offers a vital and necessary chronicle of our past and our present--perfect for fans of Robert Macfarlane and Elizabeth Rush--that's unflinching, urgent, and yet timeless and profound.