Powerhouse: The Life and Work of Architect Judith Chafee (first book on an important American Southwest award-winning architect) (Hardcover)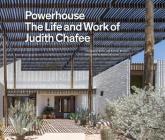 $50.00
Email or call for price.
Description
---
Powerhouse is the first book on the singular life and career of American architect Judith Chafee (1932-1998). Chafee was an unrepentant modernist on the forefront of sustainable design. Her architecture shows great sensitivity to place, especially the desert landscapes of Arizona. Chafee was also a social justice advocate and a highly respected woman in a male-dominated profession. After graduating from the Yale University Architecture School, where her advisor was Paul Rudolph, she went on to work in the offices of legends including Rudolph, Walter Gropius, Eero Saarinen, and Edward Larrabee Barnes. In addition to her architectural legacy, her decades of teaching helped shape a generation of architects. Chafee's drawings and archival images of her work are complemented by stunning photography by Ezra Stoller and Bill Timmerman.
About the Author
---
Christopher Domin is an architect and professor at the University of Arizona. He is co-author of Paul Rudolph: The Florida Houses and a contributor to Victor Lundy: Artist Architect.

Kathryn McGuire is an architect in Tucson, Arizona. She knew Judith Chafee for over twenty years as student, employee, and friend.

William J.R. Curtis is a historian, critic, artist, and photographer. He is author of Modern Architecture Since 1900 and Le Corbusier: Ideas and Forms, among many others.
Praise For…
---
"A pioneering 20th century female architect, Judith Chafee and her wholehearted embrace of the variance of her Southwestern culture and climate is deserving of this survey. Both her persona and her work are depicted colorfully and three dimensionally, with stunning photographs of her evocative homes coupled with images of her in the studio and amongst her students."
- AN Interiors

"Architects Domin (Paul Rudolph: Florida Houses) and McGuire provide an overdue examination of the life and career of architect Judith Chafee (1932-1998) in this rich monograph, chronologically revealing the evolution of her work....Insightful and illuminating, this illustrated volume serves as an excellent overview and analysis of the environmentally conscious Chafee and her innovative work."
- Publishers Weekly

"Where has Judith Chafee been all my life? With the posthumous publication of this biography/monograph on the three-decade career of the Arizona architect, I just now learned about Chafee and her amazing modern residences."
- A Daily Dose of Architecture Books

"Finally. Twenty-one years after her death in 1998, and 50 years after she returned from the East to make her mark on Tucson, architect Judith Chafee has the book she deserves. Powerhouse: The Life and Work of Judith Chafee testifies to Chafee's brilliance at creating buildings that 'live in harmony with the desert.'"
- Tucson Weekly

"This compelling monograph offers an acute reckoning with Judith Chafee's profound body of work. She has taight us about architectural ideals and spatial intelligence and, by example, shared a finely nuanced respect for the particular natural landscapes in which we build."
- Rick Joy, architect, FAIA Int., FRIBA

" Christopher Domin and Kathryn McGuire's Powerhouse is a much-needed deep dive into the life and work of the remarkable desert modernist, Judith Chafee. Her buildings, particularly her houses, are timeless meditations on the most essential elements of great architecture: a sophisticated use of light and materials, a sensitivity to climate and culture, and an appreciation for the rituals of everyday life. Chafee's architecture offers lessons for us all."
- Deborah Berke, architect, FAIA

"A new survey from Princeton Architectural Press outlines Chafee's outstanding contributions and the wider legacy she left behind, as told through the words of Christopher Domin and Kathryn McGuire - who worked with her for 18 years."
- Aesthetica (UK)

"Written by architects Christopher Domin and Kathryn McGuire, Powerhouse is a visual history of the late American architect Judith Chafee. Her work kept a sense of place and environment at the forefront, particularly in Arizona's desert landscape, balancing views and natural light with exposed concrete and wood."
Luxe Source (The Netherlands)