Gràfica de les Rambles: The Signs of Barcelona (Hardcover)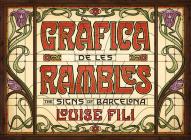 Description
---
From the labyrinthine paths and serene squares of the Gothic Quarter to the stunning art nouveau architecture of the Eixample, Barcelona is a place of irresistible charm. Throughout this beloved Catalan city by the sea, dazzling signage is everywhere: glowing mosaics and stained glass, intricately carved stonework and brilliantly gilded placards that herald the city's eclectic mix of commerce, all documented with affection and a dash of obsession by celebrated graphic designer Louise Fili. Gràfica de les Rambles is Fili's travelogue and photographic diary of the most striking and inventive signs for restaurants and hotels, farmàcias and pastisserias, the workshops of artisans, and grand department stores. This follow-up to Graphica della Strada: The Signs of Italy and Graphique de la Rue: The Signs of Paris is a love letter to Barcelona and a trove of inspiration.
About the Author
---
Louise Fili is director of Louise Fili Ltd, a New York-based design studio specializing in branding for food packaging and restaurants. Fili was art director of Pantheon Books for eleven years, where she designed close to 2000 book jackets. She is a member of the Art Directors Hall of Fame, and received the medal of lifetime achievement from the AIGA and the Type Directors Club.

Fili is the author of Elegantissima, Grafica della Strada, and Graphique de la Rue. She also co-authored and designed Italianissimo and The Cognoscenti's Guide to Florence. With her husband, the design historian Steven Heller, she is co-author of Italian Art Deco, British Modern, Dutch Moderne, Streamline, French Modern, Deco España, German Modern, Deco Type, Design Connoisseur, Counter Culture, Typology, Stylepedia, Euro Deco, Scripts, Shadow Type, Stencil Type, and Slab Serif Type. She has also designed Perfetto, Tutti Frutti, and Brillante pencils.
Praise For…
---
"Fans of the mighty Louise Fili will be delighted to hear that the master of decorative design has a new book in the works which will be landing in mid-September. The volume takes the Catalan city of Barcelona as its focus, exploring the irresistible charm of its decorative signage and hand-made wayfinding as inspiration."
- AIGA Eye on Design

"The colourful spreads show everything from metal Art Deco signs and wrought iron to more delicate mosaics, stained glass and carved stone. Photographs of the painted, sculpted or forged signs evoke something of an archiving method, as Fili scrambles to capture these signs of old before they disappear for good."
- Eye Magazine (UK)

"A striking book of photographs has been released that documents in detail the rich aesthetic beauty of signs from across the city of Barcelona."
- Lonely Planet

"Catalonia, as it has shown of late, likes to do things its own way. That distinctiveness comes through in Barcelona's signage, much of it done in its turn-of-the-century Modernisme style, a fanciful take on art nouveau. Typography buffs will be in for a treat."
- San Francisco Chronicle

"Signage isn't necessarily the first thing that comes to mind when one thinks of Barcelona, but it seems we're all missing a trick. Graphic designer Louise Fili celebrates some of the most stunning Modernista and art deco signage from the Spanish city in her new book "Gr?fica de les Ramblas," with impressive results. It features a compilation of nearly 400 images of stained glass, mosaics, carved stonework and wrought iron signage from restaurants, hotels, farmacias and even department stores."
- CNN Travel