Hidden Prairie: Photographing Life in One Square Meter (Bur Oak Book) (Paperback)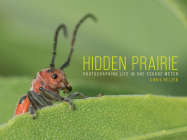 Description
---
Chris Helzer illustrates the beauty and diversity of prairie through an impressive series of photographs, all taken within the same square meter of prairie. During his year-long project, he photographed 113 plant and animal species within a tiny plot, and captured numerous other images that document the splendor of diverse grasslands. Even readers familiar with prairies will be fascinated by the varied subject matter Helzer captured with his camera. In addition, his captivating and accessible natural history writing tells the story of his personal journey during the project and the stories of the characters he found within his chosen square meter of prairie.

This book is packed with gorgeous full-page close-up photos of prairie plants and animals, interspersed with a dozen short essays that include both ecology and natural history tidbits and enthralling and gently humorous anecdotes about Helzer's experi­ence staring into a tiny bit of prairie for one year. Helzer writes eloquently about the conservation value of prairies and uses his photos and stories to reinforce a conservation ethic among his readers.
About the Author
---
Chris Helzer has worked as a land steward, project director, and now director of science for The Nature Conservancy in Nebraska since 1997. He is the author of The Ecology and Management of Prairies in the Central United States (Iowa, 2010). He lives in Aurora, Nebraska.