B Is for Badger: A Wisconsin Alphabet (Discover America State by State) (Hardcover)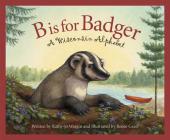 Description
---
Illustrated by: Renee Graef
The intriguing facts and faces, history and places of Wisconsin are revealed to readers young and old in "B is for Badger: A Wisconsin Alphabet." From its leaders in fine arts and architecture (Georgia O'Keefe and Frank Lloyd Wright) to its pioneers in nature conservation (John Muir and Aldo Leopold), Wisconsin has been an influence on major movements in education, industry, and use of natural resources. Brought to life with lyric rhymes and expressive, original artwork, "B is for Badger" showcases for natives and visitors alike the splendors of Wisconsin.
Born in Tower, Minnesota, Kathy-jo Wargin has spent a great deal of time in the upper Midwest. Previously, she teamed up with illustrator Gijsbert van Frankenhuyzen on the award-winning Legend series, including "The Legend of the Lady's Slipper "(Upper Midwest Bookseller's Favorite). "B is for Badger" is her fourth state alphabet book. She lives with her family in Petoskey, Michigan.
Renee Graef is new to the Sleeping Bear Press family but is very well known as a children's book illustrator for the "American Girls" collection with Pleasant Company. She has also illustrated for Boyd's Bears and is the illustrator of HarperCollin's "My First Little House" series. Renee attended the University of Wisconsin and the University of Madison; she lives in Milwaukee with her family.