Life Is Golden: What I've Learned from the World's Most Adventurous Dogs (Hardcover)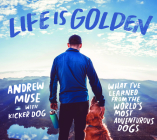 Description
---
A picture is worth a thousand words, especially when it captures thrilling adventures between man and best friend. Meet Kicker, and his human, Andrew, in this photography book for dog lovers, showing just how special adventures can be with your furry friend.
You've seen adventure -- but never like this. In this heartwarming book, readers are taken on a journey with author Andrew Muse, and Kicker, his beloved adventure dog, as they travel the world and bring an exciting perspective to the idea of "man and best friend." Experience their incredible bond through breathtaking images of their journey. Whether they're paragliding down snow-covered mountains, exploring vast ice caves, kite surfing some big ocean waves, rafting down the Colorado River, or rappelling off high mountain cliffs, their bond is unbreakable and their story is one of a kind.
Life is Golden is the perfect book for dog lovers of all ages and shows the intelligence, bravery, and loyalty that dogs are praised for encompassing. Kicker the golden retriever and his human, Andrew, inspire readers of this book to chase their dreams, fall in love with life, and treat every day as an adventure
About the Author
---
Andrew Muse is a photographer, explorer, multi-sport athlete, and adventurer who consistently generates compelling and high production value content with his adventure dog, Kicker, by his side. After spending more than ten years in the action sports and travel industry, has had the opportunity to partner with top clients including Travel Channel, GoPro, People Magazine, Google, and Land Rover. Kicker - aptly named the Ultimate Mountain Dog by Outside TV - and Andrew starred in a 2019 Super Bowl commercial for Mountain America Credit Union. Andrew's self-produced series, Tiny Home Adventure, is gearing up for Season Three after Season Two received over 1 million views. Andrew lives in Park City, Utah.