The Shadows Between Us (CD-Audio)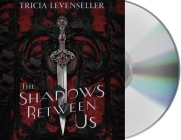 $53.99
Email or call for price.
Description
---
"Few audiobooks warrant turning off all distractions, closing one's eyes, and simply listening to the story unfold. Narrator Caitlin Davies creates just that experience as she passionately guides listeners through this gripping story of ambition, love, and desire." — AudioFile Magazine

Tricia Levenseller, author of Daughter of the Pirate King, is back with an epic YA tale of ambition and love in The Shadows Between Us…

"They've never found the body of the first and only boy who broke my heart. And they never will."

Alessandra is tired of being overlooked, but she has a plan to gain power:
1) Woo the Shadow King.
2) Marry him.
3) Kill him and take his kingdom for herself.

No one knows the extent of the freshly crowned Shadow King's power. Some say he can command the shadows that swirl around him to do his bidding. Others say they speak to him, whispering the thoughts of his enemies. Regardless, Alessandra knows what she deserves, and she's going to do everything within her power to get it.

But Alessandra's not the only one trying to kill the king. As attempts on his life are made, she finds herself trying to keep him alive long enough for him to make her his queen—all while struggling not to lose her heart. After all, who better for a Shadow King than a cunning, villainous queen?

A Macmillan Audio production from Feiwel & Friends

"Tricia Levenseller's latest, The Shadows Between Us, is a decadent and wickedly addictive fantasy, full of schemes and court intrigue, and delightful descriptions of food, which I am always a fan of." —Kendare Blake, #1 New York Times bestselling author of the Three Dark Crowns series
About the Author
---
Tricia Levenseller, whose books include Daughter of the Pirate King, its sequel Daughter of the Siren Queen, and Warrior of the Wild, is from a small town in Oregon, but now lives next to the Rocky Mountains in Utah with her bossy dog, Rosy. She received her degree in English language and editing, and she is thrilled that she never has to read a textbook again. When she's not writing or reading, Tricia enjoys putting together jigsaw puzzles, playing Overwatch, and watching her favorite TV shows while eating extra-buttered popcorn.

Caitlin Davies is a New York City-based actor and audiobook narrator. Davies specializes in audiobooks for teens and young adults, including the House of Night series by P.C. Cast and Kristen Cast. She has performed in New York and regional theaters and is a member of the WorkShop Theater Company in New York City. She has a bachelor's degree from Vassar College, and has studied acting at the Eugene O'Neill National Institute, the British American Drama Academy, the Barrow Group, and Brown University/ Trinity Rep.