Miro and Calder's Constellations (Hardcover)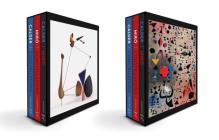 $150.00
Email or call for price.
Description
---
A deluxe slipcased boxed set that reunites the works of Joan Miró and Alexander Calder's Constellations series. The sculptor Alexander Calder (1898-1976) and the painter Joan Miró (1893-1983) met in Paris in 1928 and became lifelong friends. This deluxe boxed set places the mobile sculptures of Calder alongside the poetical paintings of Miró and provides fresh insights into the visual dialogue between these two artists. The slipcased box includes three books: one book on Miró's Constellations, one on Calder's Constellations, and one on their relationship with a shared chronology, correspondence, and photographs. The boxed set will be released with two unique slipcases and will be shipped to customers at random. One cover features the Joan Miró work: Femmes au bord du lac à la surface irisée par le passage d'un cygne (Women at the Edge of the Lake Made Iridescent by the Passage of a Swan). The other features the Alexander Calder piece Constellation with Diabolo. Acquavella Galleries reunites all twenty-three works of Miró's Constellations, a series that has special significance in the artist's oeuvre. The exhibition at Acquavella will run simultaneously and in collaboration with a presentation of Calder's series of Constellations sculptures at the Pace Gallery, which similarly explores themes of the cosmos and the forces of the universe.
About the Author
---
Margit Rowell is an American curator and former chief curator of drawings at the Museum of Modern Art, in New York. Mildred Glimcher is an author and art historian who has contributed to numerous books and exhibition catalogs. Joan Punyet Miró is the artist's grandson. Alexander (Sandy) Rower is the head of the Calder Foundation and Calder's grandson.