Big and Small, Room for All (Board book)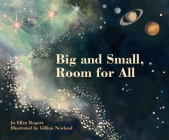 Description
---
From the immensity of the cosmos to the miraculous world of things too small to see, this stunning board book is a celebration of how we are all connected to the universe and to each other.

For the first time in board book format, this concept book by award-winning author Jo Ellen Bogart explores the size of animate and inanimate objects and their places in the universe. She introduces children to the concept of "we" -- that humans are a big part of the world, but a small part of all of existence.

In the vastness of the universe, with galaxies swirling through space, the book begins with simple words printed on the darkness. Moving closer to our world, we see the solar system, our sun at the center. Closer still, we see the huge ball of fire, the sun, and the third planet out from it -- our blue Earth. From Earth looming huge on the page, young readers view smaller and smaller things, from mountain to tree to man to child to kitten to mouse to flea to microscopic beings, amazing in their complexity.
About the Author
---
JO ELLEN BOGART is the author of many books for children, including The White Cat and the Monk, which has been short-listed for the 2016 Governor General's Award and was illustrated by Governor General Award-winner Sydney Smith; Jeremiah Learns to Read; Daniel's Dog and Gifts. She has degrees in elementary education and psychology from the University of Texas, and she now writes full time. Jo Ellen has won the Ruth and Sylvia Schwartz Children's Book Award and has been shortlisted for the Mr. Christie's Book Award. Born in Houston, Texas, she now lives in a pet-filled home in Guelph, Ontario. The author lives in Guelph, Ontario.

GILLIAN NEWLAND earned a diploma in illustration from Sheridan College. She works mostly in watercolor, ink and pencils, and her art has a timeless resonance and depth of emotion. Her previous picture books include A Boy Asked the Wind, which was shortlisted for the 2016 Ruth and Sylvia Schwartz Children's Book Award and was a 2017 Rocky Mountain Book Award nominee; The Magician of Auschwitz and A Chanukah Noel: A True Story. Gillian lives and works in Toronto, Ontario.Gillian Newland lives in Toronto, Ontario.
Praise For…
---
"Bogart presents a way for young children to explore the concepts of big and small in a way few picture books address .... Both text and illustrations have a modest sense of the sublime in their subject, one that comes across clearly. A necessary purchase that surpasses the ordinary fare." - Starred Review, Kirkus Reviews


"Youngsters will delight in the awe-inspiring illustrations of the universe .... Word choice is highly suitable for the earliest independent readers. This book will serve as a springboard for discussing the way children perceive size in the natural world." - School Library Journal


"Big and Small, Room for All is the first children's book Toronto's Gillian Newland has illustrated. Let's all hope she decides to stick around .... Jo Ellen Bogart['s] simple rhymes take the reader on a journey from the deep expanse of the universe to the tiny organisms revealed under a microscope .... Stunning." - Starred Review, Quill & Quire


"Gillian Newland's rich watercolour illustrations are the star of this concept book .... Bogart has decided on an interesting structure, mentioning comparisons of scale in diminishing order. Thus we begin with the vastness of the universe and end with 'a world of things too small to see." - CM Magazine